Flight Design - The Other End of the LSA Spectrum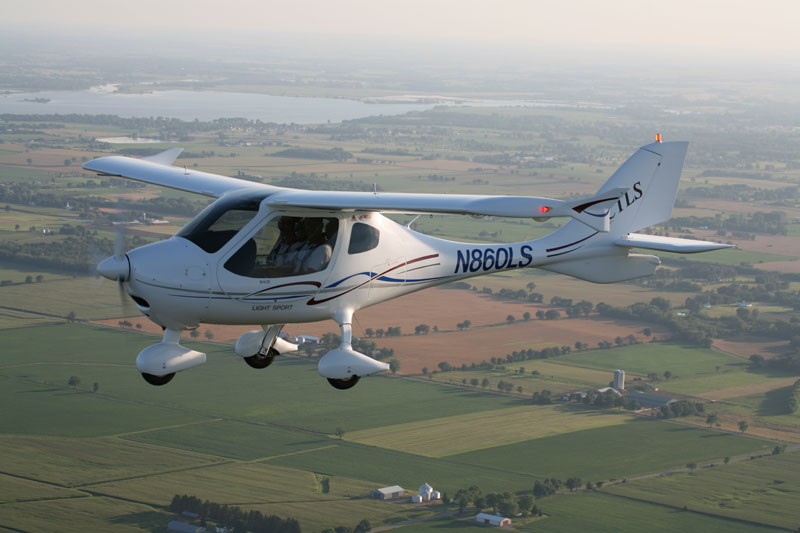 I wrote about the Pipersport on Monday. I am glad to see companies like Piper and Cessna excited about the LSA market. I think they have pedigrees that will help sell their aircraft and lend legitimacy to Light Sport Aircraft overall. Though these companies may be leaders in the 4-place piston and even bizjet classes, they are definitely just the babies in LSA world. The disparity between their progress and that of the major LSA players is pretty significant.
Cessna and Piper have deliviered a total of 2 LSAs. Cessna's Skycatcher has so little range and useful load that people will be hard-pressed to get a student and a CFI airborne in the same aircraft in many parts of the world for much of the year. The Pipersport might be a bit more capable, but that is probably only because it is an old design borrowed from an experienced sport aircraft maker.
What's their competition? Flight Design has a family of aircraft cased on their CT. They have 1500 aircraft in the CT series flying all over the world. They've been producing sport aircraft for 23 years. They've lead the American LSA market for most of the time that the market has existed. The wildly popular CTLS is mature enough that Flight Design has been able to start developing advanced versions of the airframe.
Flight Design announced a CTLS Lite with a reduced empty weight (and higher useful load) of 50 pounds, thanks to a more modest panel and some structural weight-shaving. Oh, and it costs $20,000 less than the standard CTLS model.
They also have a new CTLS HL version. With larger wings and a turbocharged 115hp Rotax 914, it is designed specifically for towing gliders, though they offer it with floats as well. It might not qualify as an LSA in the US, but it is certainly a capability improvement for the airframe for Europeans or someone who can operate it in a non-LSA category.
They've also been working on a hybrid drive system intended for aircraft with motors in the 160-180 hp range. They pair a supercharged 115hp motor with a 40 hp electric motor used for takeoff and climb. Though they intend this as just a stepping stone to learn about electric drive systems while waiting for battery technology to get to the point where they can offer an electric-only drive system, their hybrid drive has some cool advantages and promises to save up to 2.5 gph. Their press release says they plan to offer it as a retrofit option for existing aircraft. Maybe my old 60 year-old C-170A will end up with a state of the art hybrid system someday....
Looking at all this, it's apparent that Flight Design has a solid grasp of what it means to make Light Sport Aircraft. They've been leaders in that market for years and their products are so successful and mature that they're already working to develop new aircraft and technologies. That's some pretty stiff competition for a couple aircraft makers that have each just delivered their first LSA. What do you think, will Cessna and Piper ever catch up to the Flight Designs of the LSA world? Is a well known brand name enough to sell airplanes, or will the value of aircraft like the CTLS keep them in the lead?